No Stopping Us Now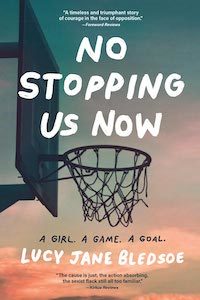 Finalist for the Golden Poppy Award
Finalist for the Northern California Book Award
Finalist for the Rainbow Award
RISE List: Feminist Book Project of the American Library Association
Order at Powell's Books or Amazon or Bookshop.org.
"A timeless and triumphant story of courage in the face of opposition, as well as a glimpse into the early days of Title IX's implementation. Knowledgeable about, and appreciative of, the trailblazers who fought for fairness and equal opportunities for women in sports, No Stopping Us Now is an excellent historical novel." —Foreword Reviews (starred review)
"This autobiographical novel, with richly developed bold, courageous characters, and raw emotion, deftly captures the period of transition, not just for Louisa but for women's rights in the 1970s. Tired of being benched, and finding power in activism, community, and herself, Louisa finds the strength to demand equality and to live the life she wants, while making an important contribution to the history of sports for girls and women." —School Library Journal
"The cause is just, the action absorbing, the sexist flack still all too familiar." —Kirkus Reviews
"From Shirley Chisholm and Gloria Steinem to macrame and hip-huggers, we are solidly in 1974. Yet there's something absolutely contemporary in the way Bledsoe captures the perils, the highs, and the awkward, nonverbal jostling of high school social life. No Stopping Us Now takes a historic moment for women's sports and replays it in all its sweaty, visceral glory." —Alison Bechdel, Fun Home and The Secret to Superhuman Strength
"It's tempting to say that No Stopping Us Now transports us back to the intense battles teen girls faced in the early years of Title IX, except that similar battles rage on today. This timeless story is a must-read for adolescents trying to find themselves and their powerful voices." —Sherry Boschert, 37 Words: Title IX and Fifty Years of Fighting Sex Discrimination
"You'll be rooting for Louisa as she speaks truth to power and stands up to opponents on and off the court." —Sue Macy, Break Through: How Female Athletes Shattered Stereotypes in the Roaring Twenties
"The characters are beautifully drawn, the story expertly plotted and moving. As a former D-I basketball player, this story is close to my heart." —Mary Volmer, Reliance, Illinois
"No Stopping Us Now is full of such heart, love, and courage. A stunning and brave journey from start to finish, I loved Louisa and her bold crew of superstar athletes who rose up together to be seen, valued, and heard. This is a book to be treasured, taught, and shared. I want my children and students to know what it means to fight for what you believe in. To take up space, to raise your voice, and most of all, to get on the court and play." —Ellen Hagan, Don't Call Me a Hurricane
"So many young women athletes today grow up without understanding the importance of Title IX and how hard previous generations struggled for the opportunity to participate in the sports they loved. In writing No Stopping Us Now, Bledsoe not only informs and entertains, she directly connects young readers to an integral part of women's sports history that should never be forgotten." —Lyndsey D'Arcangelo, sports writer, and co-author of Hail Mary: The Rise and Fall of the National Women's Football League
"For Louisa Carmichael, basketball is life. The smell of sweat, the feel of the ball, the aches in her muscles – she loves all of it. But it's 1974, and while Title IX was passed two years ago, her school has yet to implement the law. All Louisa seeks is fairness, but the obstacles she faces are tougher than any full-court press. In the fabulous No Stopping Us Now, Lucy Jane Bledsoe tells two stories of transition – of a high school girl discovering her voice and her strength and of a society grappling with the evolving expectations of women. We cheer for Louisa as she speaks truth to power, has her eyes opened to feminist intersectionality, and shines on the basketball court. On the fiftieth anniversary of Title IX, this is an important and necessary book for young people, a poignant tribute to the women who demanded equality in athletics, and an inspiring call for a new generation to fight its own battles for justice." —Andrew Maraniss, Inaugural Ballers: The True Story of the First U.S. Women's Olympic Basketball Team
Lava Falls: Stories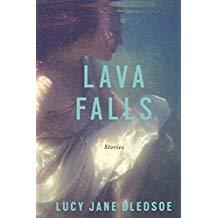 Winner of the 2019 Devil's Kitchen Fiction Award
Advocate's Best of 2019 Book List
"Riveting new collection...[with] fully realized characters; stories that stick to your ribs." —Toronto Star
"In these twelve remarkable stories, the reader journeys from the remotest inner reaches of Alaska to deceptively calm suburban neighborhoods to a research station at the bottom of the world. Yet Lucy Jane Bledsoe's true territory is the wild, uncharted expanse of the heart. Lava Falls is a wise and wonderful collection." —Kirstin Valdez Quade, The Five Wounds
"From Antarctica to suburbia to the ancient past and a post-apocalyptic future, these tales of kick-ass women adventurers and survivor girls are big-hearted, breathtaking, and profound. Reading Lava Falls is like meeting an animal in the wild: I was rapt, unable to turn away, with no idea what would happen next." —Micah Perks, What Becomes Us
"This novella and group of stories by Lucy Jane Bledsoe will move and surprise and thrill you. Bledsoe brings us right into her characters' lives, taking us on unexpected journeys, and through it all the empowered and vulnerable women in Bledsoe's lively fictional world continually find themselves, so as readers we learn more about survival and are reminded of hope, and find ourselves being delightfully renewed." —Allen Gee, My Chinese-America
"Just as Chaucer had 29 travelers exchange tales on a pilgrimage to Canterbury in the 14th century and Katherine Anne Porter put dozens of passengers on a boat to regale each other with stories...a journey is the structure for several stories in Lucy Jane Bledsoe's rich, lively collection, Lava Falls....Bledsoe's conclusion is neither tidy nor reassuring, but she credibly portrays the human enterprise, plagued with relentless uncertainty while still seeking refuge in nature's astonishing resilience." —G&L Review
The Evolution of Love, a novel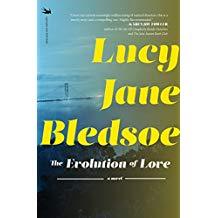 Finalist, Lambda Literary Award
Finalist, Ferro-Grumley Award for Fiction
"Reading Lucy Jane Bledsoe's new novel, The Evolution of Love, I remembered what it means to fall in love with a novel—to race through its pages, then slow down as I see the climax coming; to set the book down to spend more time with the characters in my own imagination; to delay the inevitable ending as the stack of pages left dwindles in my hands...fabulous, feminist fiction." —Ms.
"A magnificent, searingly beautiful book, as insightful as it is compassionate. Bledsoe takes our hearts in her confident hands and leads us toward an evolution of more than just love." —Elizabeth Percer, All Stories Are Love Stories
"Given our current seemingly endless string of natural disasters, this is a timely story and a compelling one. In the context of a twisting plot, in the company of appealing characters, Bledsoe asks us to think about the resilience of love and hate; what our responsibility to each other is; and who we really are, right down to our DNA. Highly recommended." —Karen Joy Fowler, We Are All Completely Beside Ourselves
"In a lucid, urgent novel driven by timely concerns and authentic feeling, Bledsoe's characters reveal how our greatest hopes most often live in community." —Edie Meidav, Kingdom of the Young and Lola, California

"[The Evolution of Love] probes deeply into the root of human behavior—right down to our DNA and how we've evolved as a species from our primate ancestors." —San Jose Mercury News
"Bledsoe strikes a deft balance between the personal and the political throughout the novel. One of its many strengths is how deeply we are brought to care about Lily and her crew's fate by being forced to confront the brokenness of a world that looks—very eerily—like the one we currently inhabit." —Lambda Literary
"Lucy Jane Bledsoe's writing leaps off the page with striking clarity. Her characters take you by the hand and lead you through their freshly broken lives, and with them you'll discover shelters of friendship and loyalty." —Shanthi Sekaran, Lucky Boy
"This fast-paced nailbiter of a novel uses a disaster in the near future to explore a basic question: Can love save us from ourselves? I read ravenously to find the answer. Lucy Jane Bledsoe is a brave and brainy writer, and The Evolution of Love is a rare mix of erudition, adventure, and hard-won wisdom." —Summer Wood, Raising Wrecker
"Lucy Jane Bledsoe's The Evolution of Love offers a terrifyingly detailed and believable vision of life in the Bay Area after a devastating earthquake. But more than that, she offers us a vision of what is possible when individuals, even in the most desperate circumstances, refuse to give up on love and hope. The Evolution of Love is the book we all need these days: a post-disaster page-turner that's also a blueprint for how we might live right now." —Naomi Williams, Landfalls
"As a child growing up in California I created a dystopian fantasy world fueled by the visions of Margaret Atwood, Aldous Huxley, and George Orwell. I worked hard to develop an internal GPS that I was sure would come in useful once the Tempest was upon us, and I devised escape routes for every imaginable natural and manmade catastrophe. The Evolution of Love was like reading from the pages of a book l lived, long ago. I was compelled to continue from the first pages, even when the going got tough and the realism felt a bit too real. I fell in love with and was frustrated by every flawed character, every new episode where every ounce of resilience was required. It is a gifted writer who can take me through a full range of human emotions and leave me wanting more. What happens next? I hope that Lucy Jane Bledsoe will make The Evolution of Love just the beginning of a new beginning for our beleaguered species." —Del LaGrace Volcano, Artist/Activist/Educator
A Thin Bright Line, a novel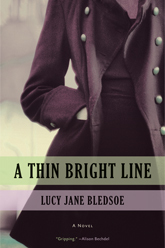 Selected a Best General Interest Book by Public Library Reviewers
Finalist, Ferro-Grumley Award for Fiction
Finalist, Lambda Literary Award
"It triumphs as an intimate and humane evocation of day-to-day life under inhumane circumstances." —New York Times Book Review
"Bledsoe's novel is an absolute wonder. Combining a McCullers-like facility in letting her settings tell half the story, with characterization and dialogue worthy of Harper Lee, Bledsoe dives deep into the life of her protagonist....A Thin Bright Line will help widen the metaphorical crack in the chains that bind those who are outside of societal norms." —New York Journal of Books
"Empowering and bold...Bledsoe injects life and dimension through her often stunning dialogue. With heart and zest, the author depicts Lucybelle's slice of life as both pleasant and harrowing." —Publishers Weekly

"A stirring and deeply felt story." —Kirkus Reviews
"Berkeley author Lucy Jane Bledsoe shows the sexy side of the 1950s in her new novel, A Thin Bright Line." —San Francisco Chronicle
"An engaging and moving novel about an unforgettable character. Bledsoe's writing is intelligent, unadorned, and unsentimental, which allows us to look at a difficult time in American history with clarity instead of nostalgia." —Rabih Alameddine, An Unnecessary Woman

"Gripping historical fiction about queer life at the height of the Cold War and the Civil Rights Movement." —Alison Bechdel, Fun Home

"Lucy Jane Bledsoe's A Thin Bright Line is a testament to courage and perseverance in the face of oppression. It's also a compelling, literary page-turner worthy of standing alongside the works of Pat Barker and Graham Greene. It reminds us that we are nothing, deep down, without love and dignity." —Patrick Ryan, The Dream Life of Astronauts
"Author Lucy Jane Bledsoe is an impressively gifted novelist, who in the pages of her latest epic, A Thin Bright Line, is able to consistently engage her readers' rapt and total attention from cover to cover." —Midwest Book Review
"In this ingenious hybrid of fact and fiction, a fine novelist uses her storytelling skills to recover the lost life of a favorite aunt, a bookish, unmarried scientist from Arkansas. With her story Bledsoe also exhumes a dark, clandestine age in American history, the time of Ann Bannon and Patricia Highsmith, but made more intimate and real." —Christopher Bram, Eminent Outlaws
"Through her fictional reconstruction of the life of her namesake, her beloved aunt—who fought the good fight as a pioneering professional and a lesbian in unsympathetic times—Lucy Jane Bledsoe recreates an important piece of history and imagines what it was like to live it. A Thin Bright Line is poignant in both its conception and execution." —Lillian Faderman, The Gay Revolution
The Big Bang Symphony, a novel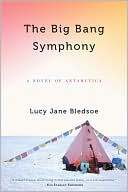 Finalist, Ferro-Grumley Award for Fiction
Finalist, Lambda Literary Award
Three women—a geologist, a composer, and a galley worker—take jobs in Antarctica. As they each fall in love and into trouble, their lives become more and more entwined—until one crisis binds them in friendship for life.

"In this compelling novel, Bledsoe captures the deadly beauty of the southernmost continent….A well-balanced humdinger of a story keeps this unusual novel hurtling along like a skidoo on the ice." —Kirkus Reviews
"Bledsoe skillfully orchestrates the lives of an intriguing set of characters gathered at an outpost in Antarctica....Bledsoe uses the locale's incredible beauty and high potential for drama, danger, and self-discovery for insights small and great as the women react to the sun's breathtaking glint on the ice and, conversely, to the power of an unmerciful environment that so quickly turns deadly." —Booklist
"This is rich storytelling, full of gutsy characters, drama, and transformation, reminding us of the awesome and ultimately untamable power of nature, and, as vulnerable, highly social animals, our place in it." —Wisconsin Academy of Sciences, Arts & Letters
"Well-paced and plotted, the novel centers around three women who go to the Antarctic then return home, their lives forever changed by their experiences with each other and with the desolate ice-world where they meet....Carefully-delineated characters and a tightly-constructed plot drive this unique and at times slyly humorous narrative about a world few have ever seen, a world that draws in people and lives like a beautiful, sometimes deadly ice-vortex. In the collision of art and science that is the novel, Bledsoe—part novelist, part science writer, and part intrepid adventurer—shows off a finely-honed imagination and sensibility that, along with her deep passion for the wild places of the earth, inspire as they uplift." —EDGE Magazine
"For everyone mesmerized by Werner Herzog's Antarctic documentary Encounters at the End of the World, Lucy Jane Bledsoe's rippingly good new novel, The Big Bang Symphony, provides a return trip into the minds of the scientists and misfits who choose to work in the extreme cold of the McMurdo Station....[Bledsoe] keeps things moving. She packs her book with lively, libidinous, oddball characters, the very most alluring and dangerous of which is the beautifully realized frozen landscape. Don't miss this chance to feel like you've spent a season there." —Stephen Bottum, Band of Thebes
"[This book] captures the southern continent's blend of mystery, menace, and majesty with ravishing immediacy....Bledsoe's narrative of the women's stint in polar isolation, confronting the emotional puzzles of their lives, is riveting in itself. But the subplots—most centrally Rosie's self-exile from her family and Mikala's childhood on a 1960s commune—add sublime texture to this crystalline novel." —Book Marks
"Lucy Jane Bledsoe knows that the people who go to Antarctica move to a heightened existence, as if to the roof of the universe, where they are stripped to their essences under a surreal sun; the threat of death and the hope of love are both obvious in every breath you take, and people act accordingly. She has written a beautiful novel about living in that extreme space, vivid and suspenseful—it really captures the feel of the Ice, and the intensity of living and learning there." —Kim Stanley Robinson, Antarctica
"Lucy Jane Bledsoe is not only a terrific writer but a writer's writer—she stretches her skills, walks new paths, and aims for the bleachers each time out. With The Big Bang Symphony, she's hit one out of the park. Her usual brew of strong, complex, quirky women characters is in evidence again, but the theme in her latest novel is all about finding connection, or, more specifically, finding home. The fact that she has set the story at the South Pole, with scenes so frigid they will make your teeth hurt, seems a sly bit of humor, but also a metaphor. How far do we need to go to understand who we are and where we came from? The Big Bang Symphony is part meditation, part exploration, and always great storytelling." —Ellen Hart, The Iron Girl
Biting the Apple, a novel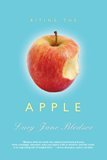 Finalist, Lambda Literary Award
A moment of simultaneous grace and injustice leads to the unraveling of three lives.
"One woman's authentic search to discover what matters." —Publishers Weekly (starred review)
"With its appealing cast of strong, unusual women characters and its sophisticated sense of humor (a life coach who is a kleptomaniac is just one of many delicious ironies), Bledsoe's fourth novel is a deftly written take on the search for authenticity." —Booklist
"Each sentence is meticulously crafted, and reads like mini works of art in and of themselves. The story and the style all come together brilliantly." —Curve
"This stunning novel is simultaneously lighthearted and heartbreaking, with extraordinarily memorable characters you can't help but root for. With intelligence and elegance, it explores important themes such as authenticity, grace, and self-sabotage in prose that can best be compared to the light, efficient sprint of an Olympic runner. Biting the Apple is an excellent, insightful read." —Just Out
"Fluid and elegant." —Jane and Jane
"There's a glow about [Eve Glass] that none of the other characters in Bledsoe's brilliant new novel seem able to resist....What is finally so magical about Biting the Apple is Bledsoe's analysis of expectations....In stunning prose Bledsoe captures the difficulty of letting go of these expectations—and the promising quiet that follows." —AfterEllen.com

"Pound for pound, Bledsoe's books are hard to beat....Bledsoe, who seems incapable of a false or unwieldy sentence or motion...takes us there to the end of the journey one unflinching page at a time." —Kevin Killian

"A haunting and profoundly satisfying novel." —Lambda Book Report
"Bledsoe's sleek fourth novel, packed with complex female characters...is an intelligent, introspective, and smartly sarcastic story about the shackles of the past, the pressures of a present built on falsehoods, and the promise of reinvention and renewal in the future." —Book Marks 10 Best Books of the Year
The Ice Cave: A Woman's Adventures from the Mojave to the Antarctic
In The Ice Cave, Bledsoe recounts her wilderness journeys as she recovers her connection with the wild and discovers an unexpected relationship between fear and grace. These are Bledsoe's gripping tales of fending off wolves in Alaska and searching for mountain lions in Berkeley. Her memorable story "The Breath of Seals" takes readers to Antarctica, the wildest continent on earth, where she camped out with geologists, biologists, and astrophysicists. Fresh and deeply personal, The Ice Cave reminds us what it means to be simply one member of one species, trying to find food and shelter—and moments of grace—on our planet.
"Layered, literary, and unflinchingly honest." —World Hum: Travel Dispatches from a Shrinking Planet
"The Ice Cave is an exhilarating read....There's an aching beauty to her tales of travel." —Passport Magazine
"Adventure lovers are in for a treat....Action, dialogue, and musings are perfectly balanced in this hard-to-put-down book." —Library Journal
"This is an honest—at times wrenchingly so—exploration of a personal relationship with wilderness, adrenaline, and endorphins." —Portsmouth Herald
"It is a fine thing that people like Lucy Jane Bledsoe write about sleeping in the snow and camping in the desert. It means that people like me can learn about such adventures without having to undertake them." —Bill Littlefield, NPR
This Wild Silence, a novel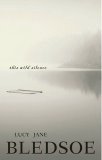 Finalist, Lambda Literary Award
"I like to tell Liz that I'm her dark side," says Christine, narrator of the novel. And it's true—she and her sister, Liz, are indeed opposites. Christine, a doctor in San Francisco's Tenderloin district, is buried in her work and cannot connect meaningfully with any of the women with whom she falls in love. Liz, married to her high school sweetheart, Mark, has an outwardly perfect life, but her fierce control is beginning to falter. The sisters share a secret, one that has bound them tightly to each other for decades. Timothy, their little brother, disappeared thirty years ago, and the sisters' guilt over this event continues to haunt them both. This lifetime of deception is gradually and heartbreakingly revealed, and finally, secrets are exposed and lives give way to the kind of healing truth that provides a possibility for hope.


"A powerful, moving novel, skillfully rendered and beautifully written." —Scott Mahood, Powell's Books
"This novel is steeped in bleak memories, stressed lives, and fragile emotions—but its acidic ashes are eased by Bledsoe's brilliant range. She writes, with utmost believability, from deep inside a range of characters...This Wild Silence—a wonderfully apt title—brims with a wealth of wholly engaging, ultimately joyous, and richly diverse people whose lives, heartbreaking and humorous, resonate with humanity." —Richard Labonte, "Book Marks," Q Syndicate
Working Parks, a novel
Winner of the American Library Association Stonewall Award
Lori Taylor is a top-notch bicycle mechanic and a smart woman with well-oiled charisma. And she can't read. Her best friend Mickey is long on literacy but comes up short in matters of love. The two friends enter into a pact that leads to dangerous emotional territory. But as they negotiate the rough ride of personal growth, the mutual dream that drives them begins to unravel....Working Parts is a novel that taps the essence of friendship and the potential unleashed when we face our most intense fears.
"To witness this wonderfully original character find renewal in a previously alien landscape makes for a liberating and joyous excursion in reading." —Pat Holt, San Francisco Chronicle
Sweat: Stories and a Novella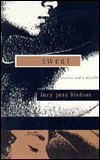 Finalist, Lambda Literary Award
"In an outstanding novella and...rich and satisfying stories, Bledsoe shows herself to be a smart and savvy writer....In this tender work, Bledsoe perfectly evokes the healing power of the outdoors." —Publishers Weekly
"[Bledsoe] can make you taste the particular air at the top of a mountain pass in summer." —Alan Cheuse, NPR's All Things Considered

"It's a slam dunk...she shoots, she scores...it's a home run...actually, the sports cliches aren't nearly enough praise for Bledsoe's elegant writing about women hard at play and ready to love. Nor do they do justice to the grace, humor, and universality of her stories, smooth and absorbing tales about living, learning, and growing up." —Richard Labonte