No Stopping Us Now
Debut YA novel about love, basketball, and activism
Coming April 26!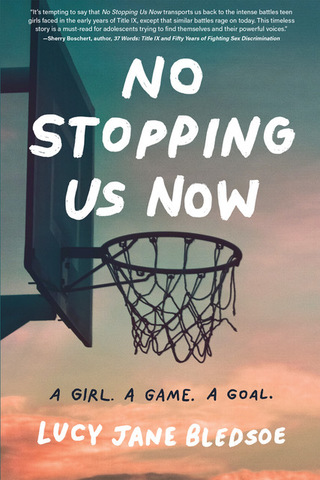 Preorder your copies today at Bookshop.org or Powell's Books or Barnes and Noble or Amazon.
To request a review copy (print or digital), or to book Lucy for a Title IX 50th anniversary event, email kat.georges@threeroomspress.com.
"A timeless and triumphant story of courage in the face of opposition, as well as a glimpse into the early days of Title IX's implementation. Knowledgeable about, and appreciative of, the trailblazers who fought for fairness and equal opportunities for women in sports, No Stopping Us Now is an excellent historical novel." —Foreword Reviews (starred review)

"From Shirley Chisholm and Gloria Steinem, to macrame and hip-huggers, we are solidly in 1974. Yet there's something absolutely contempoary in the way Bledsoe captures the perils, the highs, and the awkward, nonverbal jostling of high school social life. No Stopping Us Now takes a historic moment for women's sports and replays it in all its sweaty, visceral glory." — Alison Bechdel, author of Fun Home and The Secret to Superhuman Strength
"It's tempting to say that No Stopping Us Now transports us back to the intense battles teen girls faced in the early years of Title IX, except that similar battles rage on today. This timeless story is a must-read for adolescents trying to find themselves and their powerful voices." — Sherry Boschert, author of 37 Words: Title IX and FIfty Years of FIghting Sex Discrimination
"You'll be rooting for Louisa as she speaks truth to power and stands up to opponents on and off the court." — Sue Macy, author of Break Through: How Female Athletes Shattered Stereotypes in the Roaring Twenties
"The characters are beautifully drawn, the story expertly plotted and moving. As a former D-I basketball player, it is close to my heart." — Mary Volmer, author of Reliance, Illinois
"No Stopping Us Now is full of such heart, love and courage. A stunning and brave journey from start to finish, I loved Louisa and her bold crew of superstar athletes who rose up together to be seen, valued and heard. This is a book to be treasured, taught and shared. I want my children and students to know what it means to fight for what you believe in. To take up space, to raise your voice and most of all, to get on the court and play." — Ellen Hagan, author of Don't Call Me a Hurricane
About Lucy's other titles:
"It triumphs as an intimate and humane evocation of day-to-day life under inhumane circumstances." —New York Times Book Review

"Stirring and deeply felt." —Kirkus Reviews

"Empowering and bold." —Publishers Weekly

"Bledsoe's novel is an absolute wonder. Combining a McCullers-like facility in letting her settings tell half the story with characterization and dialogue worthy of Harper Lee." —New York Journal of Books

"Berkeley author Lucy Jane Bledsoe shows the sexy side of the 1950s in her new novel, A Thin Bright Line." —San Francisco Chronicle

"Author Lucy Jane Bledsoe is an impressively gifted novelist." —Midwest Book Review

"Fabulous feminist fiction." —Ms. Magazine

"A magnificent, searingly beautiful book, as insightful as it is compassionate." —Elizabeth Percer, All Stories Are Love Stories