No Stopping Us Now
Debut YA novel about love, basketball, and activism
Coming April 26!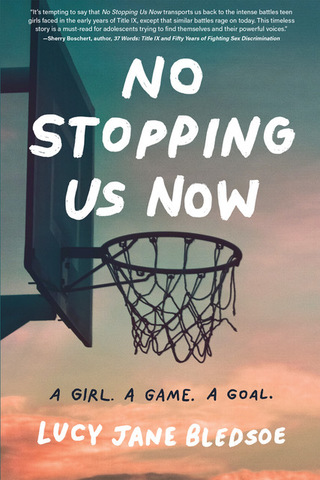 Preorder your copies today at Bookshop.org or Powell's Books or Barnes and Noble or Amazon.
"From Shirley Chisholm and Gloria Steinem, to macrame and hip-huggers, we are solidly in 1974. Yet there's something absolutely contempoary in the way Bledsoe captures the perils, the highs, and the awkward, nonverbal jostling of high school social life. No Stopping Us Now takes a historic moment for women's sports and replays it in all its sweaty, visceral glory." — Alison Bechdel, author of Fun Home and The Secret to Superhuman Strength
"It's tempting to say that No Stopping Us Now transports us back to the intense battles teen girls faced in the early years of TItle IX, except that similar battles rage on today. This timeless story is a must-read for adolescents trying to find themselves and their powerful voices." — Sherry Boschert, author of 37 Words: Title IX and FIfty Years of FIghting Sex Discrimination
"You'll be rooting for Louisa as she speaks truth to power and stands up to opponents on and off the court." — Sue Macy, author of Break Through: How Female Athletes Shattered Stereotypes in the Roaring Twenties
Running Wild 
Willa escapes her survivalist home in the heart of Alaska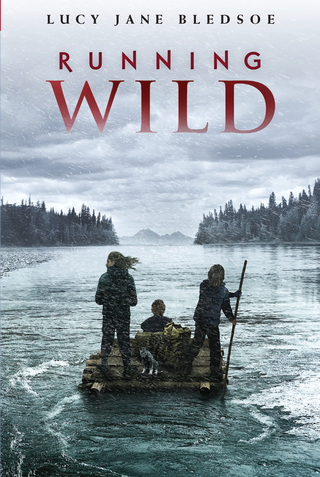 Long-listed for American Library Association's Notable Books 2020
Best Children's Books of the Year 2020, Bank Street College of Education
Finalist, South Carolina Junior Book Award
When 12-year-old Willa's mother died five years ago, her father moved Willa and her younger twin brothers deep into the heart of the Alaskan wilderness. They built a log cabin and survived on food they grew and animals they hunted. But Willa's father's dream of living off the land begins to fail, though he'll never admit that. Willa wants to go to school, to have a best friend, and safety for her family. The time has come for Willa to find her own true north, even if it involves a dangerous journey.
"With a plot and character traits akin to Gary Paulsen's Hatchet, Scott O'Dell's Island of the Blue Dolphins, and Julia Alvarez's How the Garcia Girls Lost Their Accents, this would be an excellent addition to middle grade libraries." — School Library Journal
"Ms. Bledsoe ably conveys the children's competence—they know how to hunt and bivouac—but also the youthful limits of their strengths and capabilities, both in the wild and out of it." — Wall Street Journal
"Nuanced, character-driven action." — Kirkus Review
Lava Falls
Wilderness, family, survival
Winner of the 2019 Devil's Kitchen Fiction Award
Advocate's Best of 2019 Book List
The spirited, heart-driven people who populate these stories find surprising pockets of hope as they scrabble for ways to believe in themselves and the world. A woman returns to the Alaskan cabin of her survivalist childhood, full of misgivings and memories. A trip to Yellowstone sparks a crisis for a man who feels kinship with the wolves he glimpses there. Nursing painful pasts, sisters take a cruise together to Antarctica. A runaway finds salvation from violence in her own singing. And in the title novella, a Grand Canyon rafting expedition profoundly changes the lives of six women.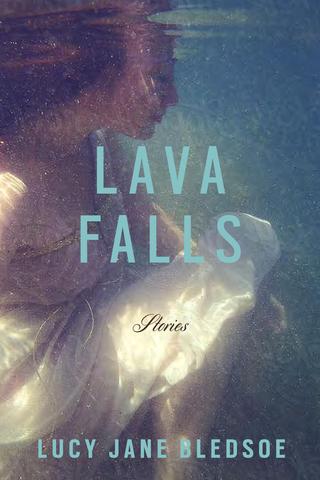 "Riveting new collection...fully realized characters; stories that stick to your ribs." —Toronto Star
"Just as Chaucer had 29 travelers exchange tales on a pilgrimage to Canterbury in the 14th century and Katherine Anne Porter put dozens of passengers on a boat to regale each other with stories...a journey is the structure for several stories in Lucy Jane Bledsoe's rich, lively collection, Lava Falls...Bledsoe's conclusion is neither ridy nor reassuring, but she credibly portrays the human enterprise, plaged with relentless uncertainty while still seeking refuge in nature's astonishing resilience. " —G&L Review
"In these twelve remarkable stories, the reader journeys from the remotest inner reaches of Alaska to deceptively calm suburban neighborhoods to a research station at the bottom of the world. Yet Lucy Jane Bledsoe's true territory is the wild, uncharted expanse of the heart. Lava Falls is a wise and wonderful collection. —Kirstin Valdez Quade, Night at the Fiestas

"These tales of kick-ass women adventurers and survivor girls are big-hearted, breathtaking and profound. Reading Lava Falls is like meeting an animal in the wild: I was rapt, unable to turn away, with no idea what would happen next." —Micah Perks, What Becomes Us

"This novella and group of stories by Lucy Jane Bledsoe will move and surprise and thrill you. Bledsoe brings us right into her characters' lives, taking us on unexpected journeys, and through it all the empowered and vulnerable women in Bledsoe's lively fictional world continually find themselves, so as readers we learn more about survival and are reminded of hope, and find ourselves being delightfully renewed." —Allen Gee, My Chinese-America
About Lucy's other titles:
"It triumphs as an intimate and humane evocation of day-to-day life under inhumane circumstances." —New York Times Book Review

"Stirring and deeply felt." —Kirkus Reviews

"Empowering and bold." —Publishers Weekly

"Bledsoe's novel is an absolute wonder. Combining a McCullers-like facility in letting her settings tell half the story with characterization and dialogue worthy of Harper Lee." —New York Journal of Books

"Berkeley author Lucy Jane Bledsoe shows the sexy side of the 1950s in her new novel, A Thin Bright Line." —San Francisco Chronicle

"Author Lucy Jane Bledsoe is an impressively gifted novelist." —Midwest Book Review

"Fabulous feminist fiction." —Ms. Magazine

"A magnificent, searingly beautiful book, as insightful as it is compassionate." —Elizabeth Percer, All Stories Are Love Stories